I recently helped a client , Jennifer, with some new ideas for her Austin home. Jennifer was wanting to update her home with a more modern look. One of the rooms we discussed was her home office. Today I'm sharing a design board to inspire her with new updated ideas.
(Sorry for the awful IPhone pics, my camera is back in the repair shop, so bear with me.)
The home office is the first room on the left, as you notice enter her home. Therefore it needs to look simplified, orderly and flow with the colors of the surrounding rooms. We will discuss the other rooms in later posts to follow.
I suggested replacing the pair of wood doors with glass paneled French doors.

The client has an adorable antique chair in the back right corner. I suggested reupholstering the chair in a modern new fabric. The existing rug is great and is the base of the room. She also wanted advice on the placement of her pieces and how to de-clutter. Right now she uses an armoire for her home office station. The armoire is on the wall, just to the left, as you enter into the room…..out of view of the entry.

However, when sitting there it's dark and not user friendly or cheery. The room has beautiful dark wood floors, but with alot of dark furniture pieces it feels heavy. Moving the furniture, de-cluttering and making the room lighter, will all create better Feng Shui , allowing her to become more productive and enjoy the space.
She also has the nice glass cabinet (two pics above) but I suggested moving this piece into her dining room for more china storage. A lighter credenza in her office would help to brighten the space.

Next to the desk area, there's a large window with plantation shutters and a silk ficus plant. I suggested removing the plant because it's overpowering the space and outdated.

I've suggested a few ways to update her space below using Dwell's fun fabrics.

Thinking of the colors in her existing rug, I instantly thought of Dwell's colorway with this peacock fabric.
Of course, with any fabric I always suggest getting a large swatch and then take it home. In this situation, we'd have to make sure it works with the rug. Pictures on a computer can sometimes be color deceiving, so all swatches need to be tested in the light of the actual space.
Here's how I would rearrange and update her office: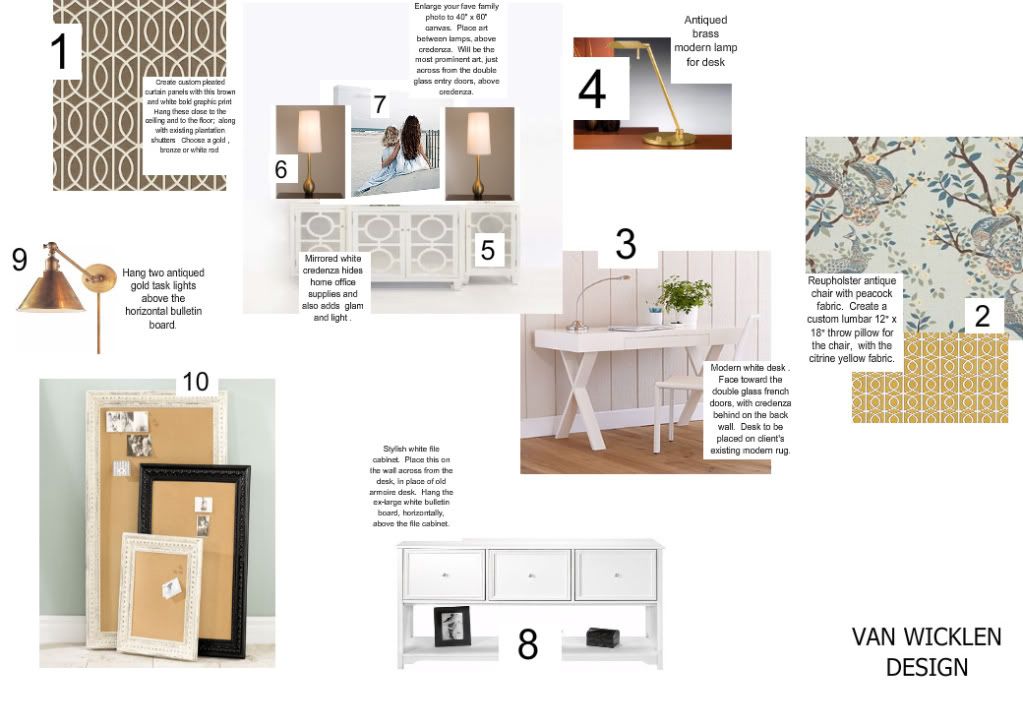 Here's a great visual for a chair covered in the peacock fabric. My client's antique chair would be tufted vertically, but still a nice fabric choice. The existing stain of a dark walnut would be a nice accent to the fabric.

If the peacock fabric choices are more aqua than the blues in the rug, then she could easily swap the existing rug for a solid seagrass rug. OR keep the existing rug and use another fabric from Dwell that leans to the grey blues:

and coordinate with this charcoal fabric:

Restoration Hardware's Silver Sage would be a nice color for the walls with a white trim color:
My client also had different diplomas sitting on her glass cabinet in dark frames.
These would look great updated in white modern frames, with a mat in a coordinating color such as the aqua blue. She could hang these on the wall, just to the right, as you enter the home office.
Couple of additional notes.
1) Not all rooms have floor plugs. If this room doesn't have one, then you can conceal ugly cords with floor cord covers that match your existing wood, available HERE.
2) Four 10″ decorative baskets can be stored on the lower part of the file cabinet to store more office supplies, add texture to the room & reduce clutter.
3) Greenery on the desk is always nice. Preferably a live plant, but a good fake is this small plant,


available from Crate and Barrel HERE.
Are you wanting to update a room, but don't live in Austin? I'll be happy to help you with e-decorating. Send me your photos and I'll be happy to give you fresh new ideas too! Check my website for details.
Have a great weekend,
Inspirational Board resources here:
1 & 2, 3, 4 & 6, 5, 7, 8, 9, 10
All other images via Calico Corners, Dwell Studio and Van Wicklen Design, Restoration Hardware