(sweet Victorian graphics from the Graphics Fairy)
I started my quest this week for the "stylish, yet different" Christmas teacher gift.
My youngest is in 5th grade and therefore has a few teachers, so you have to think frugal but nice. Below I've listed a few gifts I've found in my quest for the "unique & different", yet affordable :
Lovin' these adorable pendants from Happy Haven!! :
Becky is the sweet, talented artist behind Happy Haven and creates many styles. Check out her site on Etsy for all her wonderful creations. (Her Etsy shop is temporarily closed for the Thanksgiving holiday, but you can click on her post to be notified when her shop reopens!)
Isn't this one too cute for that special music teacher??
The robin's nest is my personal fave…..if you know my website, then you know why…I LOVE robin's nests!
I hope you'll consider one of Happy Haven's great pendants for your teacher or someone special this Christmas….and please tell Becky that I sent you!!
I love the bird theme this holiday season…..and here's another way to show your love for your teacher, with a sweet bird plate from Wise Impressions. A precious dish for her jewelry or display on the wall.
Next on my quest, I found this cute selection of stationary from Inkspot Cards,
via Poppytalk blog.

Inkspot Cards can custom print these cute daisy note pads with any teacher's names.
Their "thank you" cards below are a great staple for teachers also:

Another great teacher gift, for the crafty person is featured below:
Just cut crayons to shape your teacher's initial, frame and sign! A great idea , from the Tip Junkie.
Here's another fave that I'll be ordering for one of my son's teachers:

I found this cute idea with the sweet sentiment, from the blog on MODERN SUGAR. MODERN SUGAR is the modern girl's answer for graphics design! Natalie, the owner/designer has her own blog and she featured this cute card recently on one of her posts. She's happy to share her download of this card; just go to her blog for details.
Natalie is my website/graphics designer. We've had a great time working together and I highly recommend her !! She's been so patient with me and my ever-changing ideas & she has taught me SO much about the computer.
Just remember it's time to place those orders for personalization soon.
Many blessings to all this special holiday week,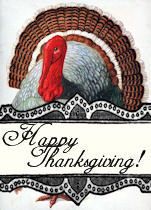 (Turkey graphics by Graphics Fairy)